Fitness & well-being
Does your swimming pool project have a sporting character? Choose the equipment adapted to your practice to transform your Piscinelle into a fitness room ... whenever you want, alone or with friends!
Endless pool unit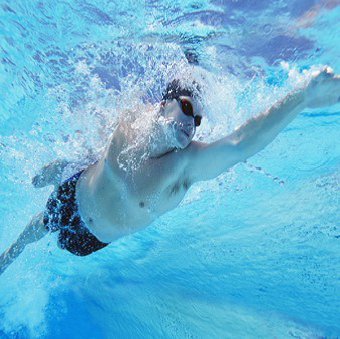 Piscinelle brings you a highly effective endless pool unit, which is completely integrated with the filtration interface, providing you with a genuine swimming experience. To achieve this, we opted for one of the market's most powerful motors (63m³ per hour) combined with a jet nozzle. This gives the Piscinelle endless swimming unit outstanding propulsion, making it one of the most effective examples of its kind on the market.
Technical details
Extremely powerful new-generation 3 HP single-phase motor, which can be installed up to 4m higher than the Piscinelle pool and at a distance of up to 15m. Self-priming motor fitted with a non-return valve.
Suction connection to the pump.
Outlet connection to the jet.
Jet flow rate and direction are adjustable (rotation: 60°)
Flexible pipe coil diameter 63mm Length 20m (tested at 5 bars).
Compressed air on/off control button on the BT 60 or MF5.
Air/water mix on/off button for a gentler massage.
Massage hose 1.5/5 m (optional).
220 V single-phase electrical cabinet with pneumatic receiver control.
Class F insulation.
IP 55 protection.
Graphite and ceramic mechanical seal.
Motor weight: 28kg.
Customer feedback
"We don't have a huge area of land and wanted to be able to swim properly without having an Olympic-size pool in our garden"
Rose Garnier, owner of a Piscinelle Rd6
Aquabike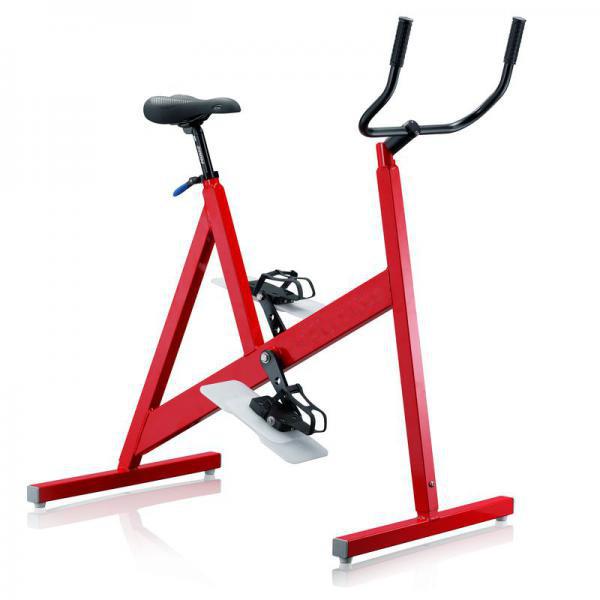 Aquabikes' benefits are well-known – impact-free muscle strengthening due to water resistance, improved venous return, detox, etc. They are ideal for fitness enthusiasts, people undergoing physiotherapy, or those seeking to lose weight or get fit.
Technical details
The Vél'eau is made in France from aluminium (frame + handlebars), making it conveniently light to remove from the water (9.8kg) with optimal stability.
The bike is coated with a bicomponent salt spray-tested epoxy paint and can be used in all pools due to its guaranteed salt and chlorine resistance.
It is extremely user-friendly with rotating handlebars and a height-adjustable saddle using a fast-locking mountain bike-style clamp.
The pedal fins are made of high-density antibacterial polyethylene.
With its protective end caps, you can use it on all liners.
It is available in white, blue, red, grey or pink to match your swimming pool or outdoor furniture.
The bike comes with a 2-year manufacturer's warranty covering all manufacturing defects.
Customer feedback
"It's great to have an Aquabike at home – I can use it whenever I want!"
Caroline Richard, owner of a Piscinelle Bo3
Massage hose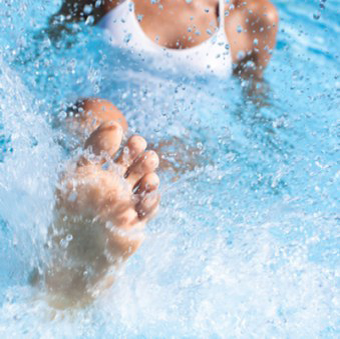 If you have installed an endless swimming unit, you can also use a body massage hose (length 5m). This hose is ideal for localised massage, allowing you to work on specific parts of the body, enhancing the benefits of water-based exercise such as swimming or Aquabiking.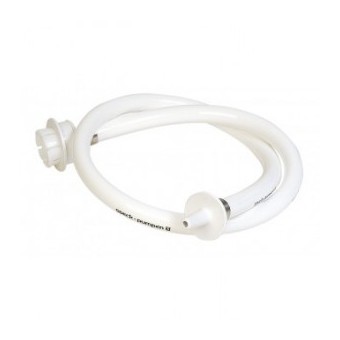 Last updated on 06/04/2022