DECORATE YOUR POOL
In addition to your Rolling-Deck® or your design copings, we offer you to perfect the spirit of your Piscinelle with decorative elements that will enhance the whole. And why not let yourself be tempted by the curve of the Piscinelle stainless steel water blade and its gentle rustling as the finishing touch to your project.
White LED spotlight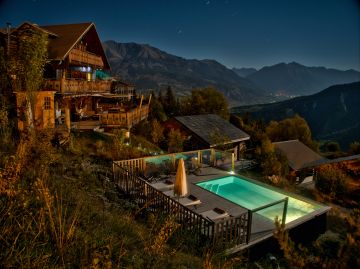 Lighting plays an important role in enhancing the look of your swimming pool. The light emitted by the white LED spotlight creates a spellbinding nocturnal atmosphere perfect for swimming or losing yourself in your thoughts.
Technical details
Supplied with a fastening kit.
Designed to be connected to the Piscinelle electrical cabinet.
Remote control not included.
Customer feedback
"It's perfect for a midnight swim"
Delphine Perrault, owner of a Cr4
Colour LED spotlight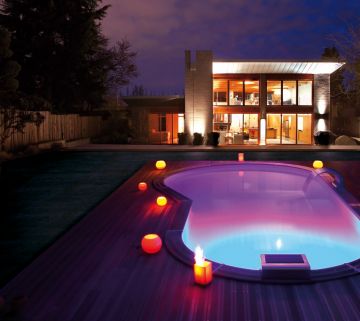 An automatic combination of LEDs gives you 12 different colours to play with, adding a dynamic dash of light to your Piscinelle pool. You can programme colour change sequences to suit your mood and switch programmes as required using the remote control. Guaranteed impact!
You are sure to spend some unforgettable nights bathed in these magical colours.
Technical details
Supplied with a modulator/receiver for automatic control.
LED service life: 100,000 hours.
Customer feedback
"It lights up our garden creating a party atmosphere!"
Isabelle Poitiers, owner of a Piscinelle Cr7b
Water curtain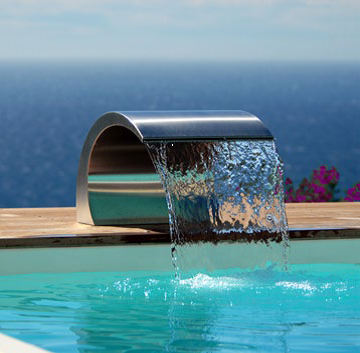 Swimming pool water curtain in 316 L stainless steel The 100% stainless steel Piscinelle water curtain forms an arch of water that trickles soothingly, adding a sublime touch to your moments of relaxation. It is a calming, simple feature designed and distributed exclusively by Piscinelle and intended as an integral part of your swimming pool. Pure bliss guaranteed!
Last updated on 06/04/2022