Swimming pool water treatment system
Water is the essential element of your swimming pool. Each Piscinelle is equipped with an efficient complete traditional filtration system. We offer additional options below to keep your pond upkeep to a minimum and a breeze.
Useful info: the quality of the water in a swimming pool depends 70% on its mechanical filtration provided by its circulation and passage through the filter. Consider extending the filtration time of the water from the first heat and swim.
pH controller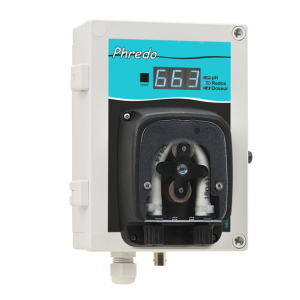 To ensure bathing comfort and water treatment efficiency, a pool's pH (water balance) should be kept between 7.2 and 7.4. An automated pH controller keeps pH within the right range so you don't have to.
Technical details
+ or - pH control.
With sensor and automatic injection.
Supplied with 10 kg of pH-minus liquid.
Customer feedback
"It monitors the pH for me, which is really convenient"
Éric Poujol, owner of a Piscinelle Bo4.5
Perform-Max treatment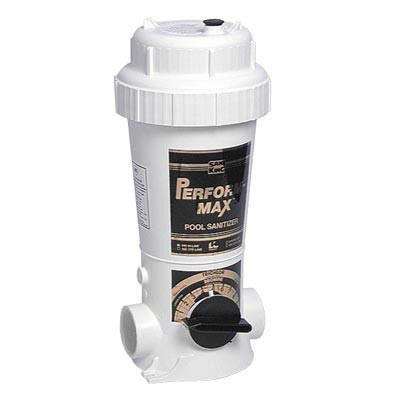 The Perform-Max brominator is an automated bromine treatment device. Once the unit is primed with bromine tablets, this very robust and user-friendly piece of equipment uses the flow from the pool's filtration pump to evenly diffuse chemicals in water flowing through the swimming pool's filtration circuit. It therefore does not need to be connected to the power.
Technical details
Once the unit is filled with bromine tablets (max. approx. 3 kg), it uses the flow from the pool's filtration pump to evenly diffuse chemicals in the pool's filtration circuit water.
A dial is used to adjust chemical diffusion based on the volume of water treated (max. 70m³).
Supplied with 5kg of bromine tablets.
The brominator is installed on the pool's return pipe after the filter (either a sand or cartridge filter).
Bromine is easier to use as it is more tolerant to variations in water pH and is therefore consistently effective.
The Perform-Max brominator is made in Hopkins, USA by King Technology, the global leader for brominators.
Customer feedback
"The Perform-Max helps me manage my water balance on a daily basis"
Jacques Marchand, owner of a Piscinelle Bo4.5
Salt water chlorinator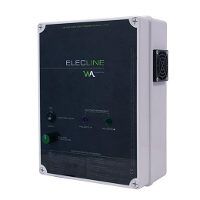 An electromechanical salt water chlorinator enables automatic treatment of swimming pool water. This device with its electromechanical components is an extremely reliable solution.
Chlorine production is automatically adjusted (4 adjustable levels of production). Cleaning the cells is easy due to a system whereby the polarity is reversed each time the filter is reactivated.
Technical details
Polarity reversal
Operates at maximum salt levels of 4.5 g/l
No circuit board
Production displayed by LED
4 adjustable levels of production
For 40-90m³ basins depending on the model
Operation indicator lights
Daily timer, manual/0/automatic reverser and on/off switch + lighting
Customer feedback
"We decided to buy a salt water chlorinator 6 months ago and we no longer have to worry about treating our pool"
Jean Billarde, owner of a Piscinelle Cr6

Pool cleaner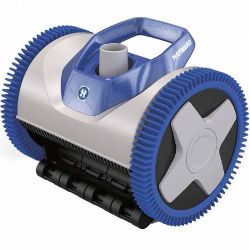 If you want all the enjoyment of your pool without any of the work, let the MAX 1 AquaNaut 250 clean your pool so you don't have to.
The MAX 1 cleaner is autonomous, lightweight, efficient and very easy to use. It can be connected directly to the skimmer or suction inlet and is supplied with 10 metres of piping. This unit equipped with a wide suction inlet and ribbed wheels ensures a deep clean regardless of your pool's size or shape.
Technical details
New-generation automatic suction cleaner
Cleans in two ways – scrapes the pool bottom with its rubber blades and sucks dirt into the filtration system.
Avoids obstacles with its patented wheels providing excellent manoeuvrability.
Three interchangeable suction inlets optimising suction performance regardless of flow rate.
New – leaf catcher included.
Random cleaning pattern.
Surface type: Concrete, liner, polyester, tiling
Operates silently
Customer feedback
"The pool is clean and the cleaner never breaks down ... it's ideal for us!"
Christine Cayron, owner of a Piscinelle Cr8
Handy maintenance kit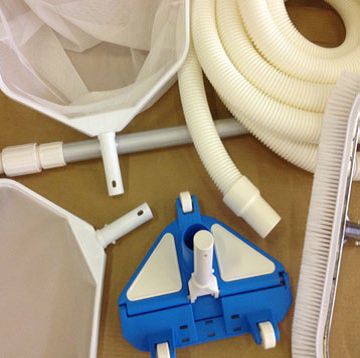 This exclusive Piscinelle kit contains a set of pool maintenance products. The equipment is easy to use and manufactured to the highest standards.
Technical details
The full kit includes:
1 x anodised aluminium telescopic pole 2 x 1.80m in length
1 x triangular brush
1 x bottom and wall brush with suction
1 x large deep leaf net
1 x 9 or 12m floating hose
Customer feedback
"A comprehensive kit for maintaining my pool"
Sarah Laroque, owner of a Piscinelle Rd6
Last updated on 06/04/2022