PHOTO-REPORTAGE - A LARGE RECTANGULAR POOL IN THE FIELDS
This large swimming pool in the middle of the countryside surrounded by fields and woodland is as exquisite as its setting.
To transform your main residence into a holiday home, all you need to do is install a Piscinelle pool! This was precisely the goal pursued by our customers, who wanted their home to be a place where their children and friends could come and get away from it all.
Customer feedback
" Everyone's over the moon with it including children, parents and friends! And the pit-mounted slatted cover offers real peace of mind. "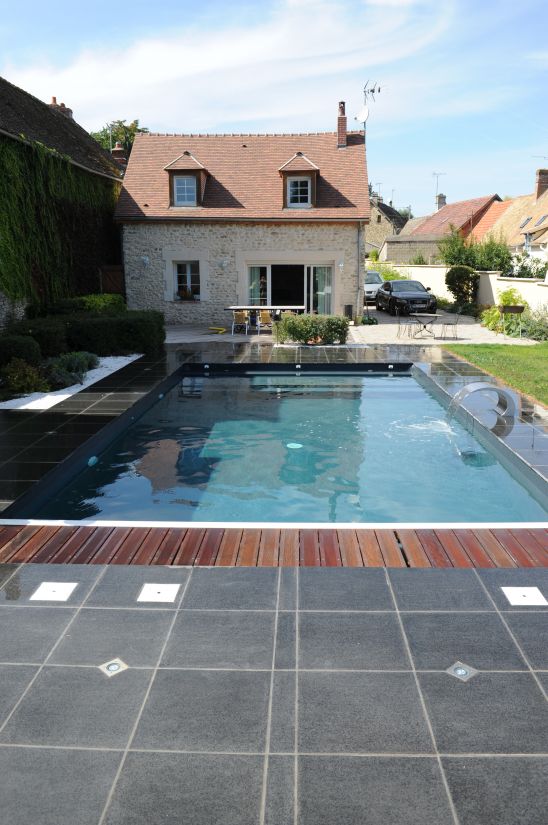 Although this project entailed no major limitations in terms of space, the main challenge was to achieve a sense of harmony between the pool and its setting, in this case, the grounds of a large country house.
What immediately catches the eye is the slate grey of the paving stones surrounding the pool. This mineral array echoes the surrounding buildings and promises unstinting modernity.
The Piscinelle Cr10 pool (water area of 10m x 5m and aluminium structure) is very well-equipped. It is fitted with a pit-mounted automatic safety cover, giving you total peace of mind in just a few moments. It is also fitted with a Piscinelle water curtain made of 316 L stainless steel, adding a light, elegant touch to the pool highlighting its role as a water feature.
The granite grey liner gives everything a natural feel, both in terms of the water colour and the pool blending in with its surroundings.
Spotlights, a bespoke Escabanc step/tanning ledge unit and automated water treatment are the finishing touches to this Piscinelle pool offering unique ease-of-use.
Take a look at the full photo-reportage:
Configure your Piscinelle pool
Last updated on 17/01/2022
Back to the summary of the section "Photos of our swimming pools builds"