PHOTO-REPORTAGE - A POOL WITH ROLLING-DECK IN THE DUNES
Nestled among the dunes just a few metres from the sea, this wooden house and its Piscinelle pool fitted with a Rolling-Deck radiate simplicity - and craftsmanship.
The main challenge in this unusual project was to equip the house with a pool without upsetting the balance of a remarkable setting.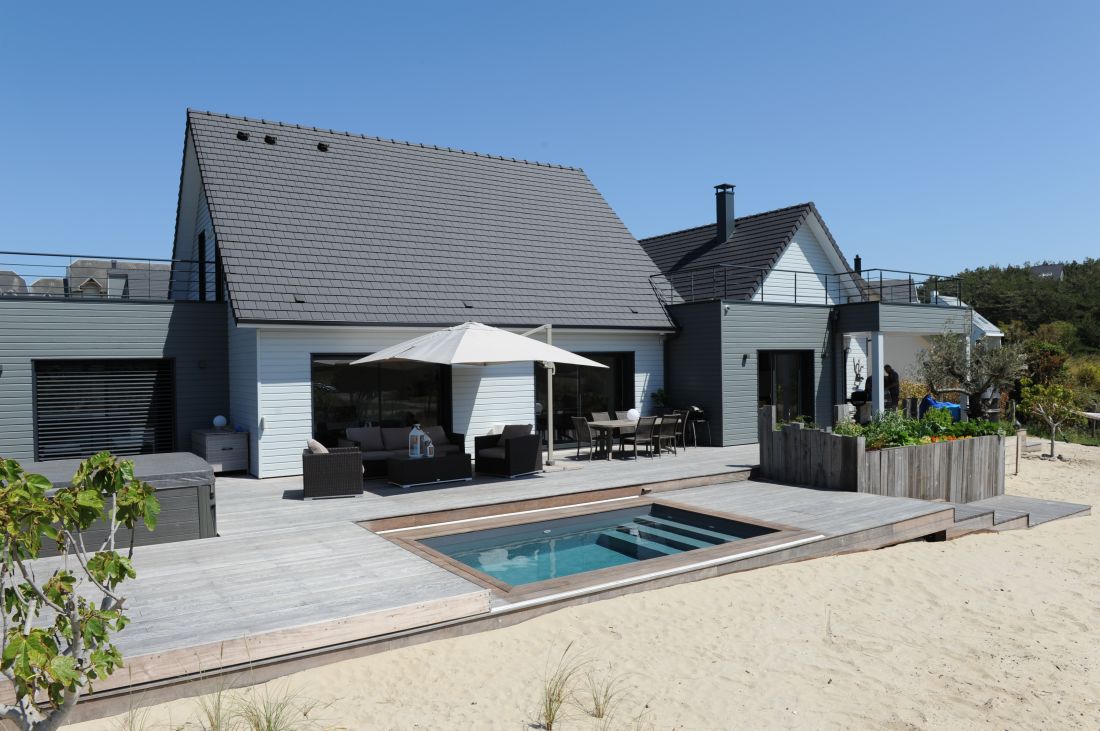 When we describe it as "unusual", we're obviously referring to the geographic location. The English Channel with its long beaches covered in powdery sand is just a short, scenic stroll away. It is a soft pastel landscape reminiscent of a Marie Laurencin watercolour. The marram grass covering these dunes punctuates and structures the composition.
Customer feedback
"Our Piscinelle pool blends in perfectly and can be concealed in the off-season. It's easy to secure the pool with the Rolling-Deck, which was also important for us with young children."
It's also unusual for the way it fits in seamlessly - once the Rolling-Deck is closed, it's completely invisible and blends in with the rest of the deck. Once winter draws in and the long summer evenings by the poolside are over, the pool can be concealed. The ability to hide the pool in the off-season is just one of the benefits offered by the Rolling-Deck.
Shades of grey are elegantly coordinated, with interplay between the silvery-grey ipe deck, slate-grey pool liner, grey roof tiles and even the silvery leaves of the olive tree swaying in the sea breeze.
Bathed in the bright light of the Opal Coast, this build is easy on visitors' eyes and encourages restfulness. It's a genuine home spa.
Technical details of this pool:
Piscinelle Cr range, Cr4 model.
Autoclave Class 4 treated Scots pine structure certified and approved by the FCBA (French Institute of Technology for Forest-based and Furniture Sectors) as an eco-friendly, carbon-storing material.
The straight 3-step Escabanc provides a great space to relax and play with children, while also offering a means of getting in and out of the pool.
Lighting is provided by white LED spotlights inside the pool.
The water temperature can be quickly increased to 29°C using the heat pump so the pool is lovely and warm for guests.
The Rolling-Deck is level with the upper tier of decking and therefore blends in seamlessly when closed. It runs on aluminium tracks.
Take a look at the full photo-reportage:
Configure your Piscinelle pool
<10m² With Rolling-Deck With borders Grey liner
Last updated on 12/04/2022
Back to the summary of the section "Photos of our swimming pools builds"