A traditional swimming pool in the Walloon Brabant region of Belgium
This Piscinelle pool is installed within the grounds of a modern property with uncluttered spaces in the heart of Wallonia in Belgium. The pool is a true reflection of this designer house with its crisp lines, and provides a centrepiece for outdoor decorative features, which exhibit equal attention to detail as other rooms in the house.
This Piscinelle pool boasts a minimalist design, immaculate finishes, and quality materials fully in keeping with the high standards applied to the entire project.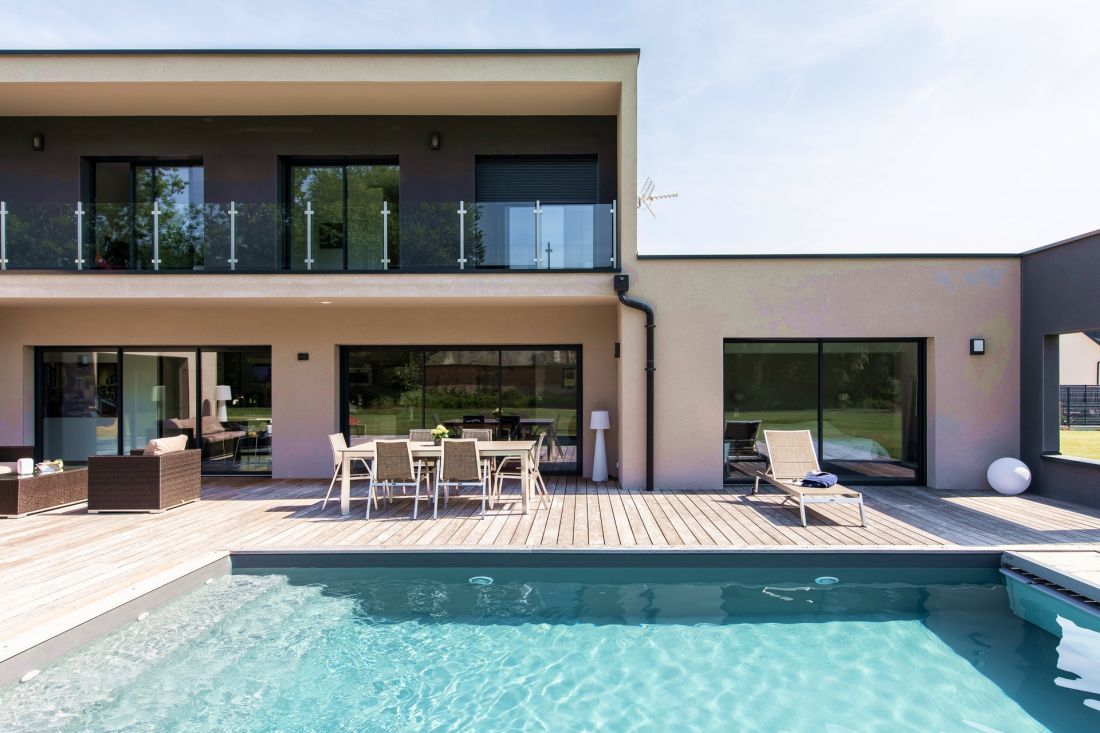 The blue carpet of the pool echoes the green carpet of the lawn and resonates like a vast array of geometric shapes and colours with the white walls of the house. If you squint, it looks like a new form of abstract art.
Customer feedback
We wanted a perfect rectangle, an immaculately presented swimming pool forming a mirror in front of our living room. The result speaks for itself.
Although the garden is large enough to install a pool away from the house, providing a separate area for aquatic fun, a clear decision was taken to do the exact opposite. The pool was kept close to the patio doors of the living room, thus maximising the integration of this indoor space into the project and making it a perfectly consistent feature leading directly to the outdoor area designed as a genuine fifth room of the house. Indeed, this precision-designed pool also provides a focus for precious moments together as a family, so as well as the satisfaction it gives as a thing of great beauty, it also brings the joy of outbursts of companionship and love!
Technical details of this build in Belgium:
Bespoke Piscinelle Cr: 7.8m x 3.45m, height: 147cm.
Piscinelle patented double-skin aluminium structure.
Dark grey liner (take a look at our slideshow of all the colors available).
The pool is equipped with 2 white LED spotlights, making a midnight dip irresistible.
Traditional filtration performed in a remote equipment box.
Water treatment is semi-automated, which is convenient for everyday use.
The pool is heated by a heat pump system, which is both effective and economical.
With its pit-mounted safety cover, the pool can be closed in just a few seconds, providing permanent peace of mind.
View all photos of this build in Belgium (photo credit: Fred Pieau):
With borders Grey liner Slatted cover
Last updated on 01/06/2022
Back to the summary of the section "Photos of our swimming pools builds"