PHOTO-REPORTAGE - CONTEMPORARY SIMPLICITY IN ITS PUREST FORM LIKE A NEW POOL SPIRIT
Simplicity, purity and aesthetics are combined in this Piscinelle pool that radiates an extremely pared-down pool spirit.
This Piscinelle pool installed in the Greater Paris Region has been designed to mirror a designer house, itself reminiscent of the Villa Savoye.
This minimalist, almost restrained build embodies the spirit of Le Corbusier. The long white walls, stanchions supporting the first floor, and geometric interplay between the blocks comprising the house and the bright expanse of water are all details linking the overall design to 20th-century modernism.
Visitors cannot help but be impressed by the overall effect, which is majestic without going over the top or succumbing to pretensions of grandeur.
Customer feedback
" We wanted a durable, concrete-free pool whose design needed to be very simple and clean. We were impressed with Piscinelle and the result is plain to see."
Our customer wanted the pool to be completely minimalist in keeping with the house - a sort of crystal-clear mirror embodying a new pool spirit. Restrictions on style often improve the substance, like a good poem forced to obey strict structural conventions. The result is a pool that reflects the elegance and purity of its setting right down to the smallest details.
The crisp lines, perfect right angles, harmonious dimensions that perfectly complement the blocks of the house, and the invisible links between the wood-imitation tiled patio and swimming pool are all hallmarks of long-standing expertise that is kept low-key.
Impressive yet discreet, bright yet elegant like a mirror pool in the Alhambra, this design puts the observer in a meditative state and provides a new source of delight for the family.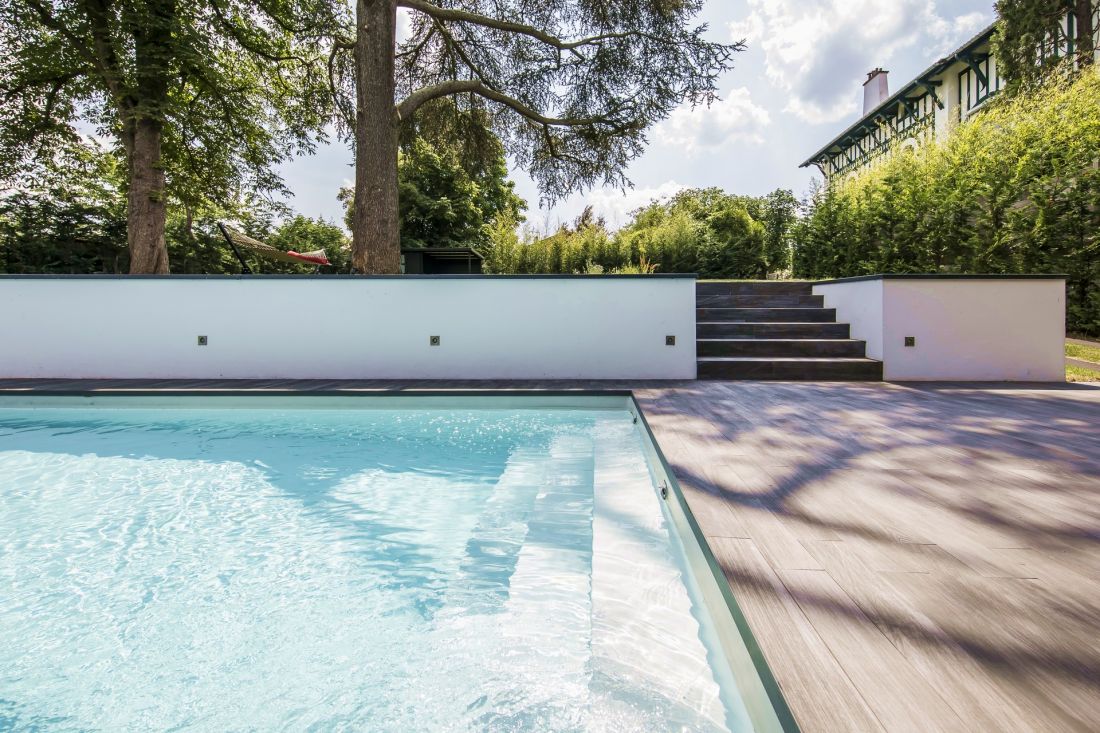 Technical details of this pool:
Piscinelle Cr range, Cr8 model (dimensions: 8m x 4m).
Piscinelle patented double-skin aluminium structure with a warranty covering up to 20 years. The aluminium alloy that we use is a durable high-tech material used in demanding sectors including the aerospace industry, and meets our pledges on the environment as it is a recyclable, eco-friendly material that is 99% recycled by Piscinelle.
A fully inground installation with compact earthworks exceeding pool dimensions by just 20cm to minimise excavations and ensure a clean site.
Natural water colour due to the light grey liner (take a look at the slideshow of swimming pools classified by liner colour).
The 3-step Escabanc provides a great space to relax and play with children, while also offering a means of getting in and out of the pool.
Lighting is provided by two white LED spotlights.
The water temperature can be quickly increased to 29°C using the heat pump, so the pool is lovely and warm every day.
The pool is fitted with a pit-mounted slatted cover enabling it to be secured in just a few moments.
Take a look at the full photo-reportage (photo credit: Fred Pieau):
VIEW OTHER PISCINELLE TROPHY WINNERS
Configure your Piscinelle pool
Photos of our swimming pools builds
Last updated on 23/02/2021