A poolside getaway…
The winner of the 2018 Piscinelle Gold award lies in the grounds of an old farmhouse converted into a guest house in the Hérault department. This natural space has been designed as a an entity in its own right, providing an oasis of peace, a timeless place, a slice of paradise in the middle of the garrigue!
In this idyllic setting by the side of a calm expanse of water in the midst of an arid yet welcoming landscape, the pool becomes a gateway to faraway places, deep meditation, journeys from the comfort of a sun-lounger, a real fountain of youth nestled in an eternal forest.

Just looking at these images, you begin to tune out with the warm summer sun on your skin, surrounded by scents of lavender, honey and fresh goat's cheese matured in the nearby farm - it's the France we all know and love from our holidays!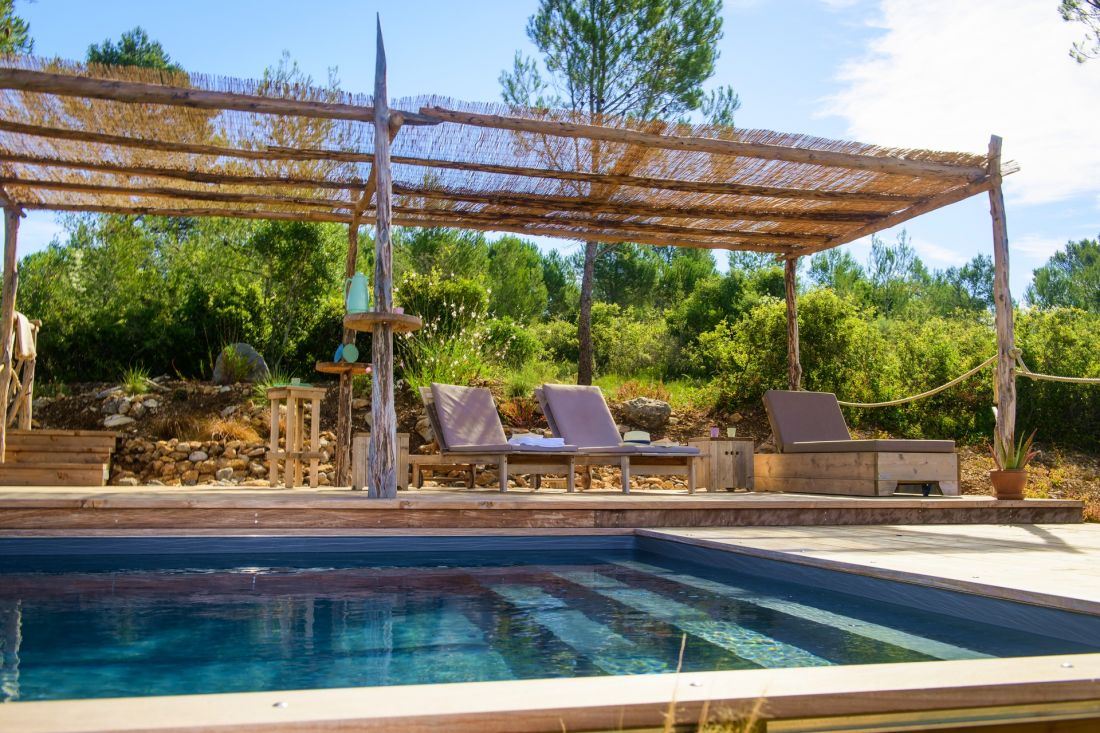 This pool installed on uneven ground is equipped with a reinforcement system to manage the very high water pressure on the above-ground parts of the structure. The rest of this relaxing space consists of a deck and pergola whose roof gently filters the sun's rays to soften their caress.
Customer feedback
"We wanted to create a separate space where our guests could feel completely away from it all. The pool had to echo the spirit of the Bergerie Fontbonne - a break from our often hectic lives!"
Some of these photos taken with a drone provide a good overview of the setting, enabling you to immerse yourself in the relaxing atmosphere our customers created for visitors to their guest house. Incidentally, we heartily recommend a short break here to get away from your smartphone with all its apps that ensure you stay connected even by the pool, and genuinely reconnect with yourself!
Technical details of this build:
Piscinelle Bo4.5, dimensions: 4m x 4m, height: 136cm. From €8,462.
Autoclave Class 4 treated Scots pine structure.
Reinforced by an above-ground system composed of IPN beams.
The pool will never leak as it is equipped with a patented Piscinelle stainless steel BT60! This provides peace of mind for years to come.
Pool lighting provided by white LED spotlights with a remote control.
Privilège slate-grey 33°C liner (take a look at our slideshow of all the colors available).
Piscinelle Design Plus ipe border.
View all photos of this build in Hérault (photo credit: Régis Domergue):
With borders Above-ground pools Grey liner Square pools
Last updated on 17/01/2022
Back to the summary of the section "Photos of our swimming pools builds"