PHOTO-REPORTAGE - A SWIMMING POOL ON A PARIS ROOF TERRACE
In central Paris nestled on a roof terrace with a stunning view of the Grands Boulevards, this Piscinelle pool has all the hallmarks of an outstanding build.
This small pool is tailor-made to blend in perfectly with this unique setting.
Fully in keeping with the unusual nature of this project, the pool is fitted with a Rolling-Deck enabling users to reclaim the space in just a few seconds and fully enjoy the terrace after they have finished swimming. In this unique, confined area, space is at a premium, so this intelligent layout provides the ideal solution!
Customer feedback
" We needed a perfectly integrated, bespoke build with a Rolling-Deck enabling us to fully use the terrace whenever possible, including at times when we're not using the pool. Honestly, this is the perfect solution! "
The pool is installed on the roof terrace and is therefore technically fully above-ground. Encased in an attractive wooden housing, all the equipment for managing the water pressure is concealed from visitors leaving only a minimalist, contemporary build visible.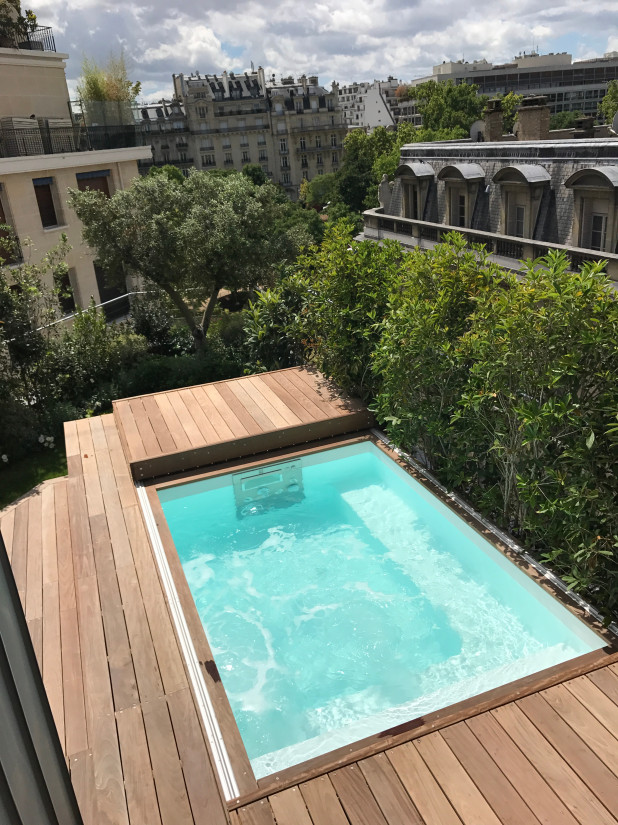 The technique used here did not affect the roof's leakproofness, a requirement stipulated in the specifications, while also avoiding the use of concrete. In fact, wood or aluminium are ideal for building very complex pools, particularly in confined, inaccessible spaces, at no significant extra cost, and Piscinelle has over 20 years' experience of using these materials.
The filtration unit is positioned several metres away in a dedicated 2m² area.
The bespoke tanning ledge enhances the enjoyment of a dip in the pool and lightens the assembly, enabling users to chill out in central Paris in a pool whose weight is supported by the roof terrace.
Although long considered a luxury few can afford, it is now possible to live the dream of embellishing your roof terrace with a swimming pool while keeping costs down thanks to Piscinelle's methods and expertise.
Technical details of this unusual build on a Paris roof terrace:
Bespoke Piscinelle pool (dimensions: 3.5m x 2.3m, height: 114cm) autoclave Class 4 treated Scots pine structure.
Grey liner (take a look at our slideshow of all the colors available).
The following equipment was also tailor-made:
Bespoke Rolling-Deck. The entire structure and deck is made of ipe, a naturally rot-proof exotic wood variety.
Bespoke solar cover.
Bespoke internal tanning ledge.
Piscinelle equipped with a 316 L stainless steel MF5 (filtration panel), which avoids drilling holes in the liner ensuring the pool stays permanently leakproof.
36m² ipe deck on different levels with stairs for accessing the pool.
The pool is heated by a heat pump.
Lit up with white LED spotlights.
View all the photos of this unusual build on a Paris roof terrace (photo credit: Philippe Leroy):
Configure your Piscinelle pool
<10m² With Rolling-Deck With borders Above-ground pools
Last updated on 17/01/2022
Back to the summary of the section "Photos of our swimming pools builds"