IN BELGIUM, A DESIGNER POOL PROVIDES A PEACEFUL HAVEN
This pool was awarded the FPP Gold Trophy for the "pool renovation" category. The house and pool were given an ultra-modern revamp by a couple who left Antwerp to live in the the Walloon Brabant region, and a Piscinelle pool was exactly what they needed to kick-start their new life in French-speaking Belgium!
A balanced composition
Theatre directors strive to create balanced scenes with actors positioned harmoniously on stage to enhance the overall visual effect, while also enabling the audience to engage more easily with the story and the collective experience.
In painting, graphic balance is key. Everything in a Miró painting is balanced on a thin wire and it all seems so simple that you forget the wire … but move any part of the painting and it all falls down.
For Piscinelle, building a pool is about striving to achieve the same level of harmony. The aim is to create a balance of shapes, materials and textures so that the observer is unconsciously struck by how visually restful it is as a whole.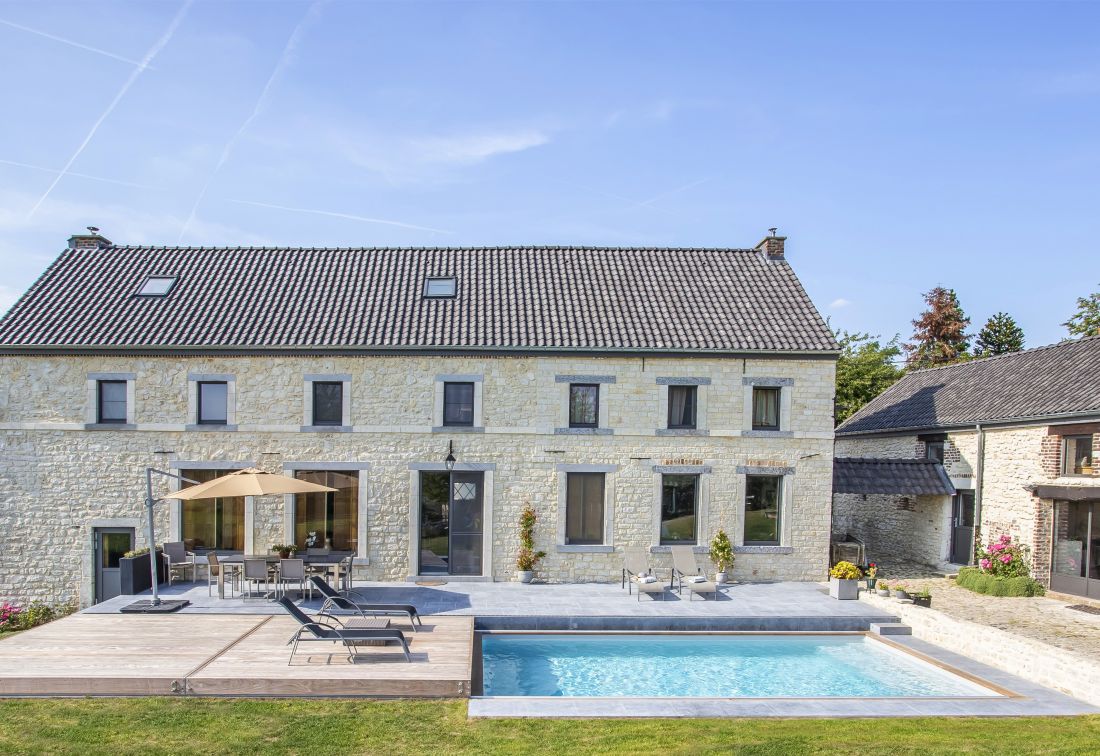 Colour coordination is also critical - is the house light, dark, red or cream-coloured? The pool we install should resonate with the building to ensure a successful match.
What we love about this build is its simplicity, serenity, and the almost reassuring feel of this large house, which seems self-assured in the same way as some of nature's peaceful giants.
And the pool below it is the ideal size. It's not excessively big despite the available space, but also makes no excuses for being there, the perfect match for this mansion.
Being in two places at once…
Another vital element in this set-up and a key to its success is the integrated Rolling-Deck, which can be closed in just a few moments.
Customer feedback
"We wanted a decent-sized pool, but also needed it to blend in, be easy to maintain, and, most importantly, be attractive as this is the house we live in throughout the year."
For our customers, the ability to close up and completely conceal the pool was a clear priority. We met this challenge with a Rolling-Deck that is precisely level with the Soignies blue-stone patio covering the first few metres of space in front of the house.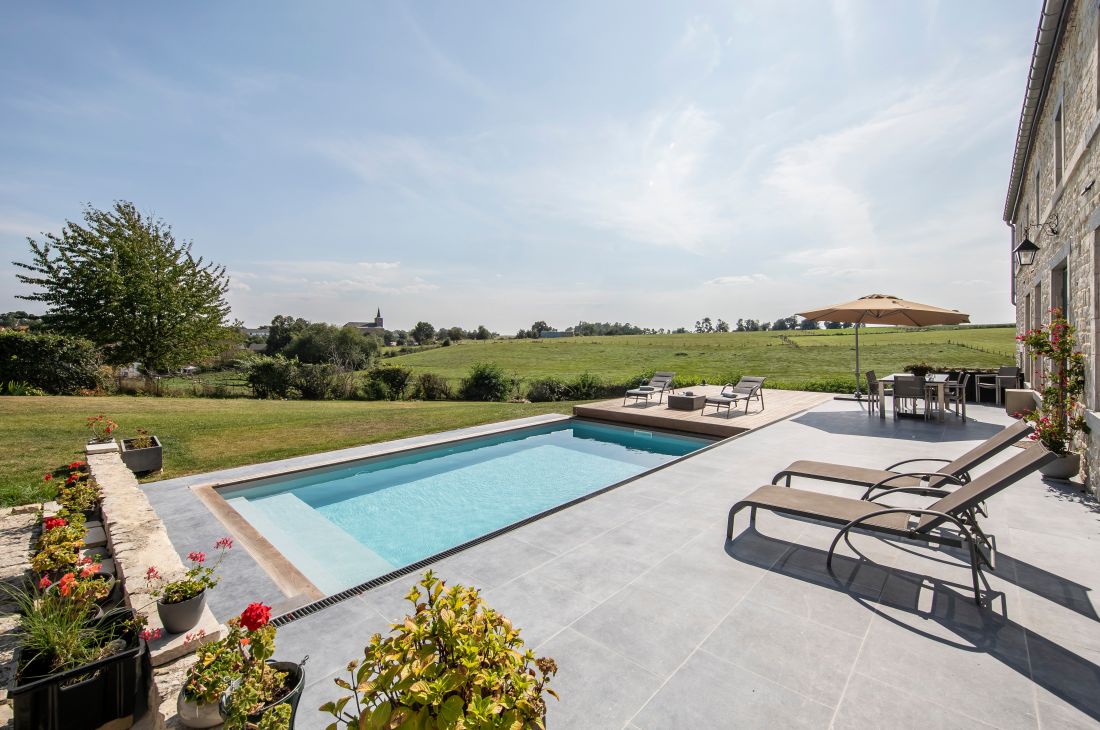 In addition to its stylish look, the unique way in which it blends in, and the unending excitement of opening the pool, the Rolling-Deck enables users to be in two places at once - when the deck is closed, it's the daily routine with the pool discreetly secured and the family in the house. However, when the Rolling-Deck is opened, school's out and the family residence suddenly becomes a holiday home!
In short, this pool has been designed with a resolute focus on aesthetics, while also enabling users to enjoy the finer things in life in their everyday lives and bringing a holiday feel to the house!
Please note: This build involved the full renovation of an old pool built in the 1980s and therefore goes beyond the remit of a pool-staging project, in which more modern features are added to an existing pool. In other words, the existing pool was completely demolished to make way for a new one based on an entirely different design. Find out more about our renovation and pool-staging solutions >
Technical details of this pool in Belgium:
Bespoke 7m x 4m Piscinelle pool, depth: 136cm, surface area: 28m²
Piscinelle patented double-skin aluminium structure. Aluminium is a 100% recyclable metal, meeting current environmental priorities.
The pool is fitted with an Escabanc step/tanning ledge unit across its full width allowing people to enter and exit the pool very easily without it taking up excessive space in the pool.
Light grey 33°C liner (take a look at the slideshow of swimming pools classified by liner colour).
Set of light grey shell fittings blending in seamlessly with the colour of the liner.
White LED spotlight creating a convivial atmosphere at night.
Traditional sand filter in an equipment box a few metres away.
Heat pump enabling the pool to be heated.
Water treatment options enabling semi-automation and facilitating maintenance (pH control and automated diffusion of a chemical treatment).
100% ipe 2-module Rolling-Deck moving on anodised aluminium tracks.
The pool surround includes a Soignies blue-stone patio.
Take a look at this video showing the 2-module rolling-deck in operation on this pool (credit: Fred Pieau):
View all photos of this designer pool build in Belgium (credit: Fred Pieau):
Piscinelle is a pool specialist operating in the regions of Brussels, Walloon Brabant, Flemish Brabant, Wallonia, Flanders and Luxembourg and in the municipalities of Antwerp, Ghent, Charleroi, Liège, Schaerbeek, Anderlecht, Bruges, Namur, Louvain, Molenbeek-Saint-Jean, Mons, Ixelles, Malines, Alost, Uccle, La Louvière, Hasselt, Saint-Nicolas, Courtrai, Ostende, Tournai, Genk, Seraing, Roulers, Mouscron, Woluwe-Saint-Lambert, Forest, Verviers, and Jette.
CONFIGURE YOUR PISCINELLE POOL
With Rolling-Deck With borders Grey liner
Last updated on 17/01/2022
Back to the summary of the section "Photos of our swimming pools builds"