A Piscinelle inspiring wanderlust...
Are you looking for escapism and a garden that makes you feel elsewhere? Why not separate the pool area from the house and use it to embody an alternative reality? The key take-home from this project is that a 10m² pool is all it takes to get away from it all and create a space that is so full of character that it transports you each time you look at it.
An escapist retreat in your own garden
Creating a world that reflects your personality or conjures images of faraway places or your own unique brand of poetry are all things that you can expect from your Piscinelle pool.
Obviously, a pool automatically brings laughter, a chance to cool down during hot spells, games, and a host of other opportunities to enjoy good company. It also comes with its own magic, taking you on a secret journey every day of the year.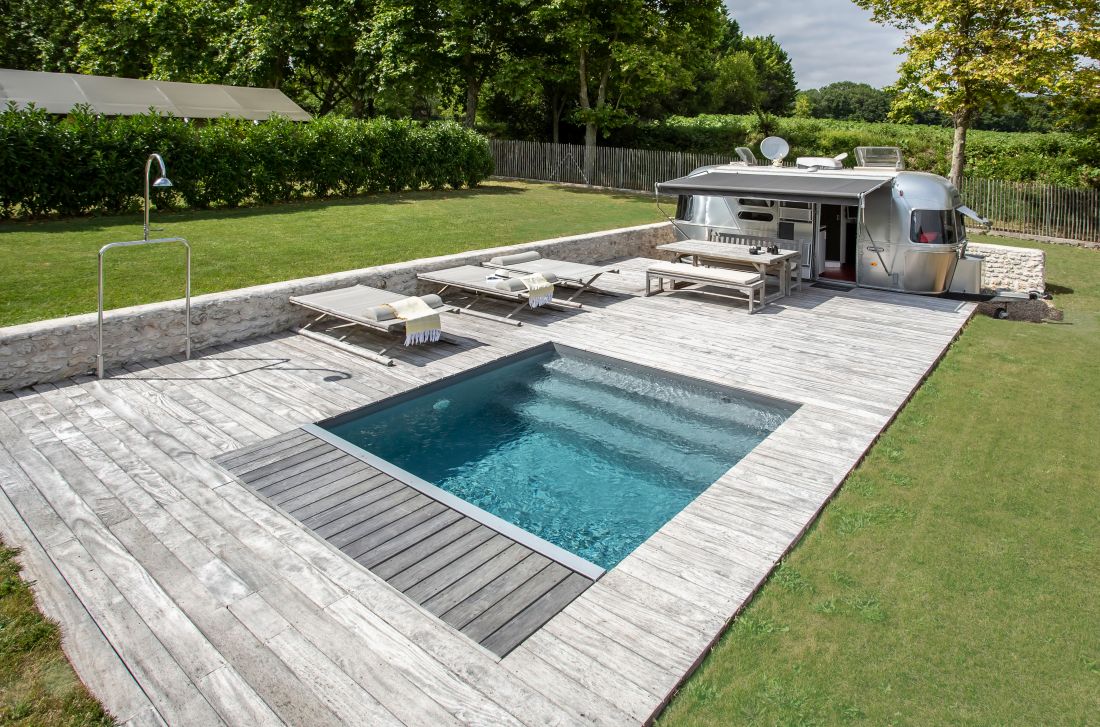 In this project, our customer longed for a separate area enabling them to get away from it all both physically and mentally. Quite apart from anything else, the legendary stainless-steel Airstream® caravan is the very essence of travel. It conjures thoughts of America, long desert roads, blazing sun all year round… and it's mentally rejuvenating to be able to escape into this world whenever you want while remaining in the comfort of your own home.
And when this legendary caravan, which is both a study in style and an example of stringent industrial standards, hits the road again, the customer will be taking a little slice of their Piscinelle pool on their whole trip including adventures in places where lost highways meet in the outer edges of faraway countries…
It's possible to travel in a small space…
The success of a pool project has nothing to do with size. It bears repeating that a 10m² pool provides the same opportunities for sheer joy and good company as a 100m² model, even though it's not used in exactly the same way.
Customer feedback
"Although there was plenty of space on our site, we decided to use most of it to create a magnificent setting enhancing our pool area. We wanted something that was really inviting rather than "overwhelming"."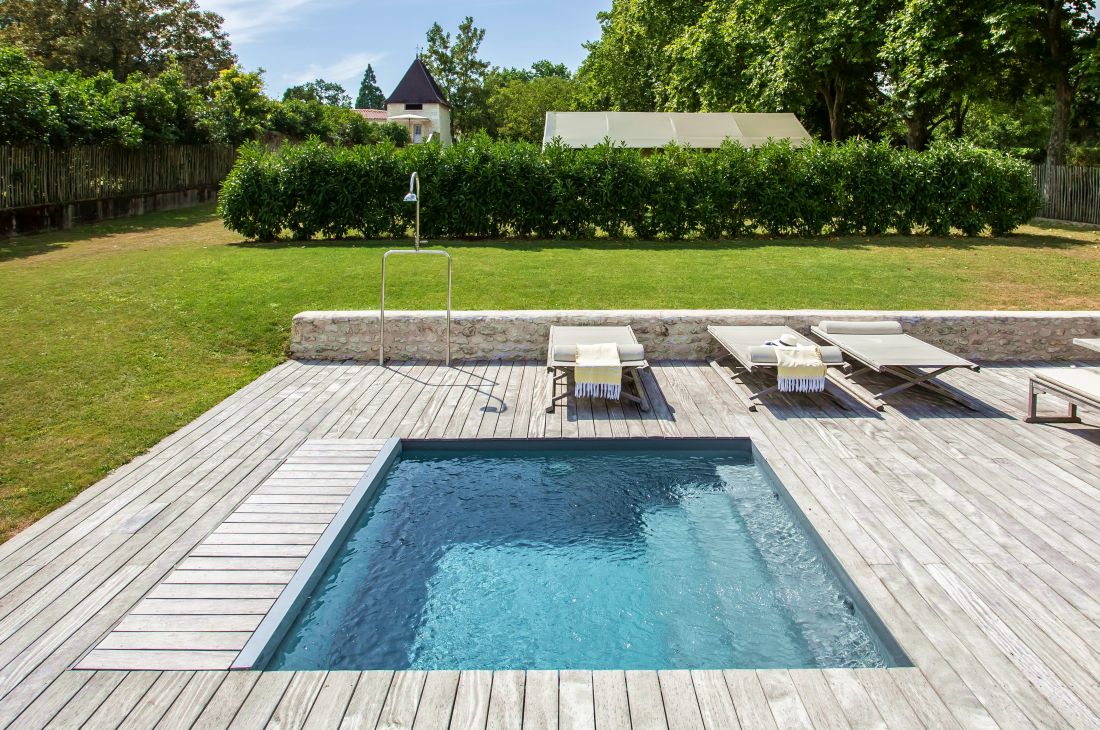 The spaces around the pool are used much more often than the pool itself, so it's worth considering the surrounds as essential features of your project! (Take a look at our slide show of pools by surround type for inspiration).
Obviously, the size of the pool has an immediate impact on the project budget. However, practical and aesthetic concerns should also be addressed and indeed prevail when considering a build. This project is the perfect example showing that a small pool is all it takes to provide an escapist refuge, its shimmering surface seeming to whisper a secret…
The pool surrounds are understated in silver-grey ipe, adorned with simple furniture in soft shades and a stainless-steel shower in sparkling grey … as a whole, it's exceptionally elegant, exuding charm that prompts a real desire to spend hours sat around this Piscinelle pool ... even on days when it's not in use!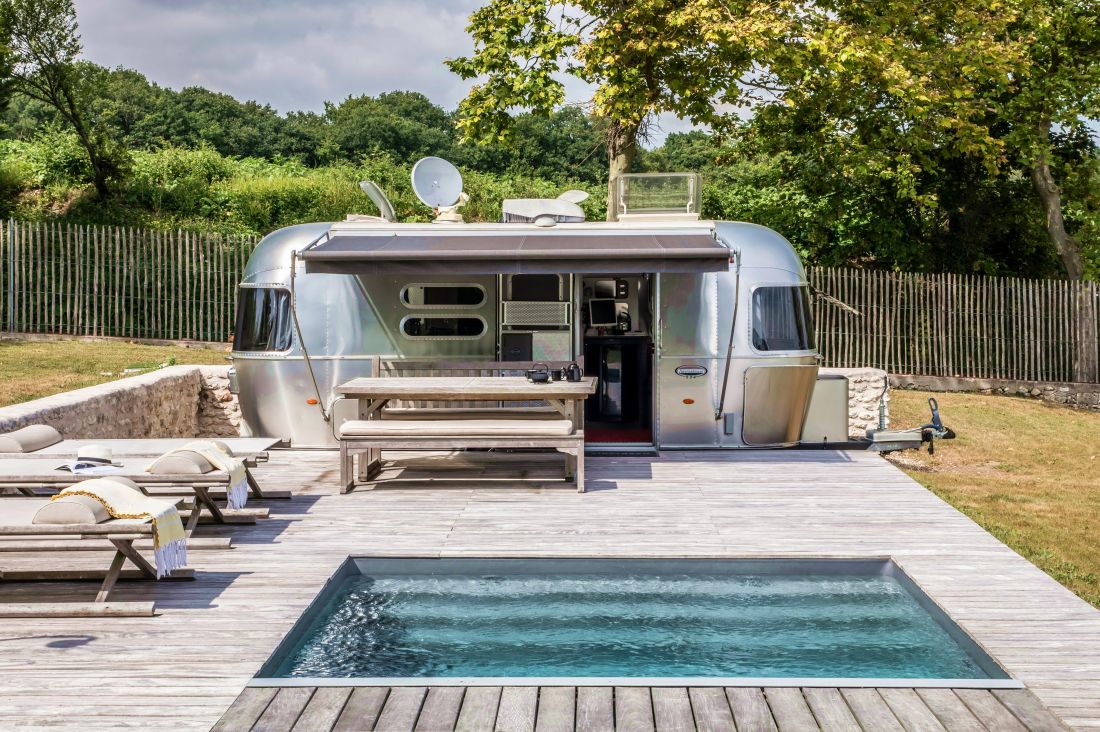 Technical details for this square mini-pool:
Bespoke Piscinelle Bo3.5, square model measuring under 10m² (see Bo range).
Piscinelle patented double-skin aluminium structure.
The pool is fitted with a grey pit-mounted slatted cover, which is closely colour-coordinated with the surrounding ipe deck.
Straight Escabanc with 3 submerged steps providing a place to relax on summer days and a means of entering/exiting the pool.
Slate-grey 33°C liner (take a look at the slide show of swimming pools by liner colour).
Set of slate-grey shell fittings blending in seamlessly with the colour of the liner.
White LED spotlight bringing the pool to life at night.
Traditional cartridge filtration limiting waste water discharge.
Equipment box several metres from the pool.
Heat pump for heating the pool.
Piscinelle-certified genuine ipe deck (take a look at the slide show of available surround types).
Stainless-steel Airstream® used as a pool house.
View all photos of this designer Piscinelle pool and its Airstream® (photo credit: Fred Pieau) :
Configure your Piscinelle pool
<10m² Grey liner Slatted cover Square pools
Last updated on 17/03/2023
Back to the summary of the section "Photos of our swimming pools builds"