When night falls…
After long summer hours, after months of shimmering heat, the sun ends its journey somewhere over an open horizon, and the vast theatre of day gives way to the realm of nocturnal fantasy…
Good times both day and night
A Piscinelle pool's charms are by no means limited to days spent swimming in the sun. When night falls, it takes on a new allure and continues to exude its indefinable mystery…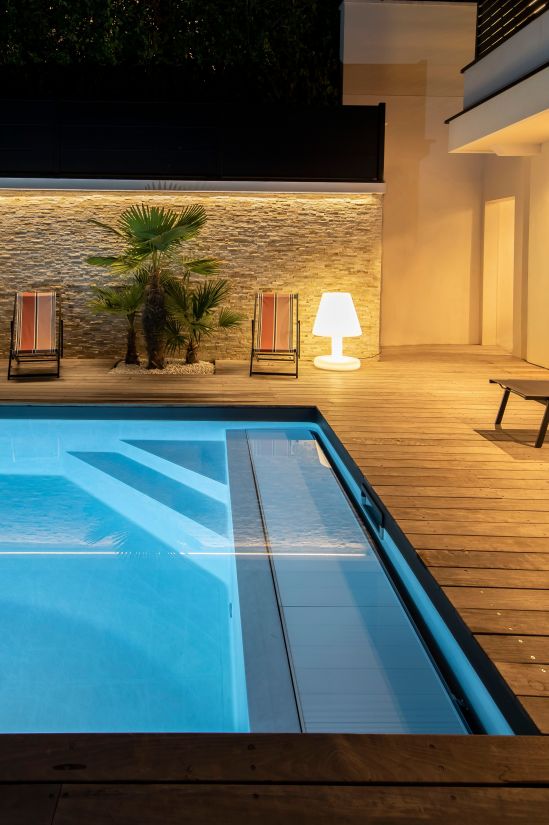 When enjoying a long summer evening with friends beside this exquisite expanse of water, the blue-tinted mirror provides a captivating focus that resonates with the tradition of pool parties and gets everyone in the party spirit. There's no need to jump in to enjoy it – its bright presence is enough. It shines beneath the stars and seems to converse with the bright white shapes of the house.
For those wishing to replicate one of Eddie Barclay's famous parties, where everyone wore white, or a Slim Aarons composition, nothing stands in the way of some wild midnight swimming or a firework show viewed from the illuminated pool, with reflections reminiscent of a fauvist or primitive work of art! Such spectacular scenes are sure to spark a new dimension for this Piscinelle that glitters beneath the starry sky.
The finer things all year round with a pool.
The magnetism of a night pool endures past summer. Even in winter, when a dip is completely off the cards, it continues to add aesthetic appeal, making the garden a kind of animated painting in which an illuminated tree and a wall bathed in warm light form a consistent landscaped whole transforming the outdoor area into a sophisticated extra room of the house.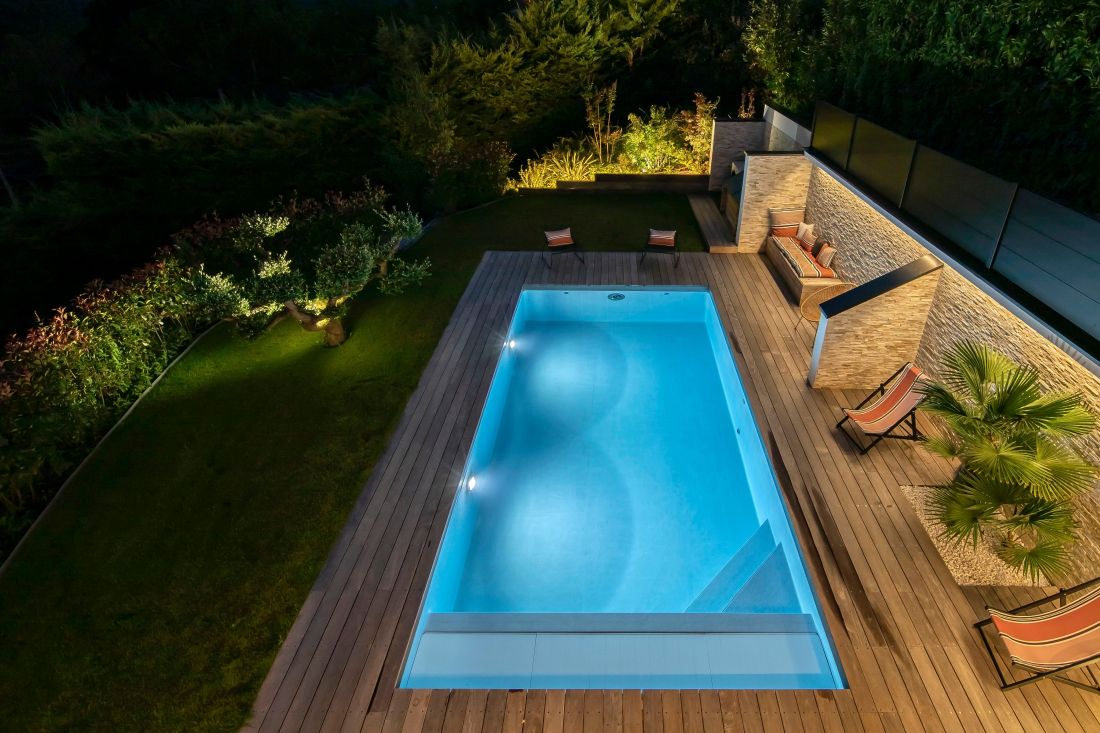 Throughout the year, from the blue hour to the dead of night, the pool reveals times of day that are often overlooked. These are the times when night falls and people seek the warmth of their homes where they can rest in comfort. A pool's role as a small slice of culture allowing this rule to be broken in a positive way and providing a link between the exterior and interior, is part of its power and the finer things it offers.
It also brings with it a culture of pleasure, patience and anticipation when, gazing on the shimmering expanse of water throughout the year, we see reflections of summer memories.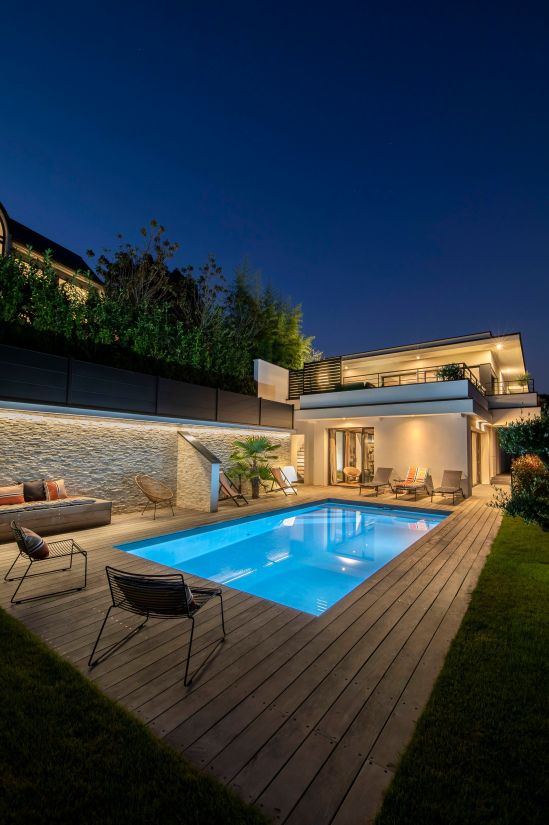 In a peaceful moment contrasting with those poolside parties, the soothing words of a theatre play from long ago transport us:
"The faint light cast from every distant star
Showed thirty ships now crossing the bar;
The waves swelled beneath, and their effort
Brought the tide-borne Moors within the port."

Le Cid - Corneille - Act IV, Scene III
Technical details of this night pool in the French department of Yvelines:
View all photos of this night pool (photo credit: Fred Pieau):
Configure your Piscinelle pool
Piscinelle builds pools in Sonchamp, Rambouillet, Saint-Léger-en-Yvelines, Prunay-en-Yvelines, Versailles, Ablis, Gazeran, La Boissière-École, Poigny-la-Forêt, Gambais, La Celle-les-Bordes, Bullion, Les Bréviaires, Rosny-sur-Seine, Les Essarts-le-Roi, Gambaiseuil, Plaisir, Beynes, Hermeray, Maule, Clairefontaine-en-Yvelines, Auffargis, Saint-Martin-de-Bréthencourt, Magny-les-Hameaux, Orphin, Allainville and Saint-Martin-la-Garenne.
Last updated on 24/11/2022
Back to the summary of the section "Photos of our swimming pools builds"