The authorised luxury of a pool
Some people view swimming pools as a luxury, which we would never seek to contradict: such is the magic of these objects that evoke eternal luxury and, moreover, provide widespread access to it.
While it's true that pools are sometimes considered to be details or quirky features, we're on the same page as Leonardo da Vinci, who in his genius proclaimed: "Details make perfection, and perfection is not a detail"...
Contemporary architecture distilled in a pool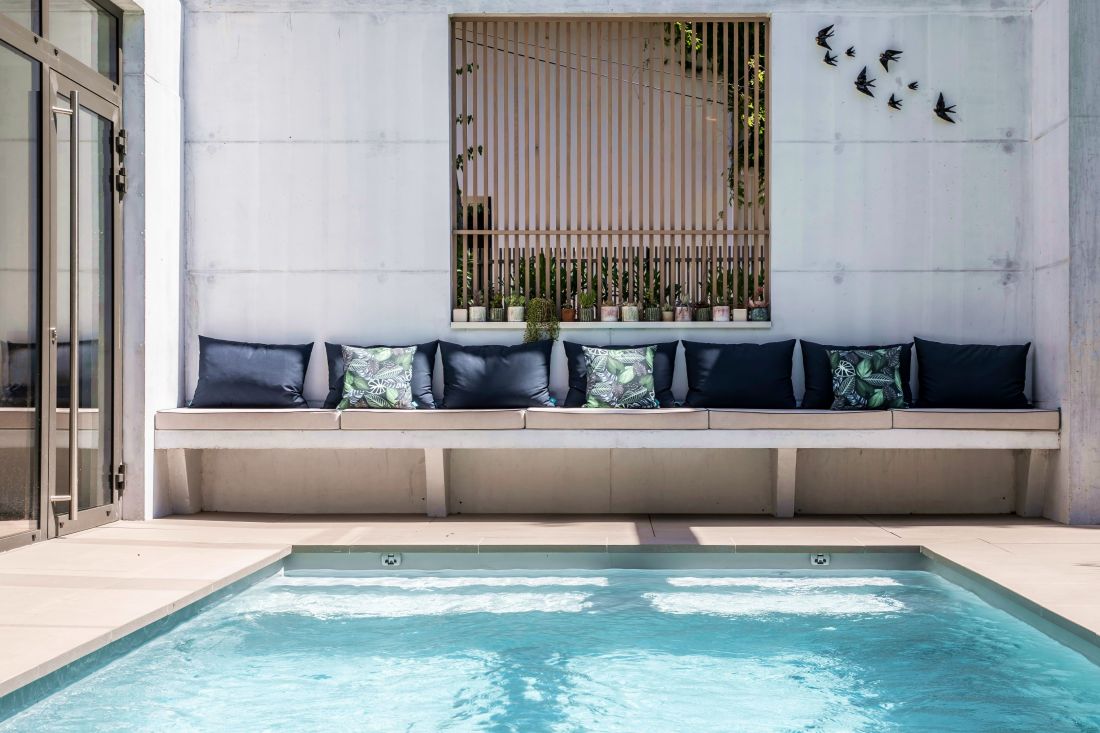 Pools are increasingly seen as key elements of building projects from their very early stages. As such, they are often included in the initial architectural plans (find out how Piscinelle can support you with administrative procedures).
When pools are designed at the same time as their environment (house and garden), it is possible to achieve a level of consistency that's not always easy to replicate if they are designed several years later.
Viewed as a component in the overall architectural design, perceptions of the pool change completely, making it the keystone of a successful building project rather than just a detail or garden feature.
Customer feedback
"We definitely saw the pool as an integral part of our house build project. We wanted a pool anyway – COVID just made us more determined to have one!"
Our customers have pulled off a project that is minimalist yet focuses on an unconventional pool area defying norms through its materials, its resonance with a building that could be described as a piece of graphic art, and the way it clearly forms part of the architecture due to the large vertical framework surrounding it, whose single raison d'être lies in its symbolism and aesthetics.
The blue passport to happier home working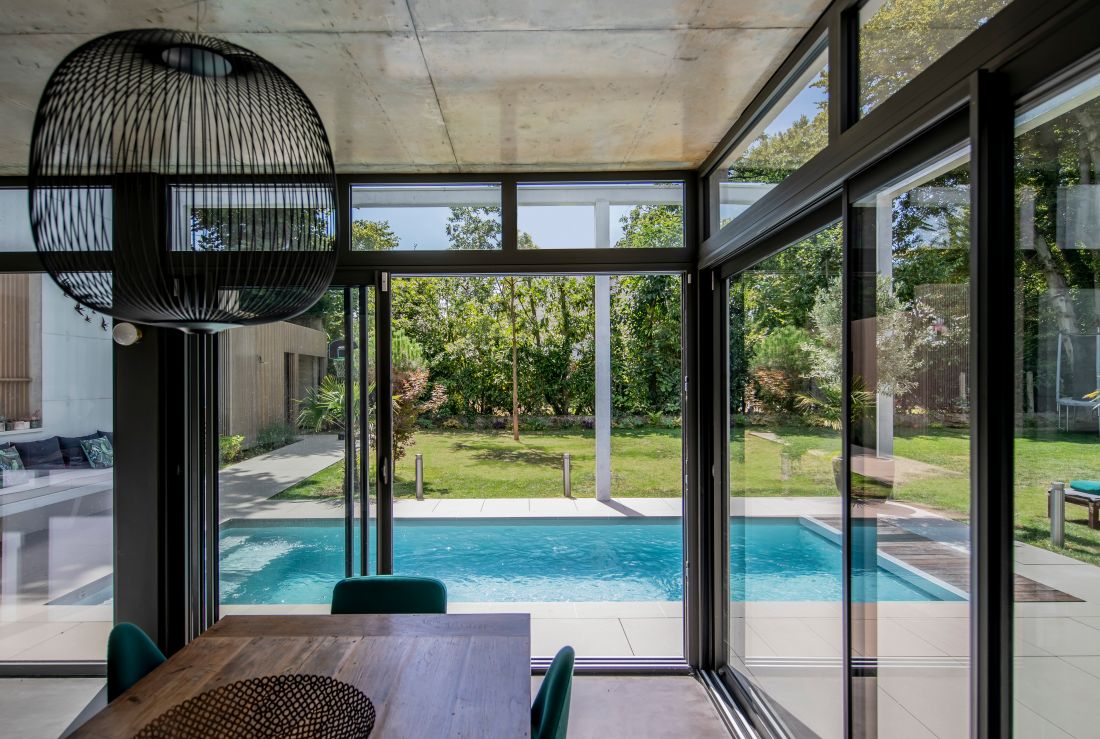 In many ways, a pool becomes much more than a mere detail in the homes of those who are fortunate enough to benefit from one on a daily basis. Most people are aware of the main advantages it procures, including opportunities to share good company and pure aesthetics. However, a new benefit has suddenly emerged against the backdrop of a restrictive public health crisis, unimaginable until so recently.
Tiny houses, house extensions, and garden studios or offices have all truly come into their own given the current situation and, based on the same logic, pools are now seen as contemporary features promoting well-being.
In just a few square metres, these blue open windows to the imagination provide escapism that extends well beyond time actually spent swimming. A pool is a source of calm, making us feel as if our office has suddenly acquired a view of the Pacific, and has therefore become a major detail in terms of our appreciation of the finer things in life and (perhaps we should believe what Leonardo said?) enables us to reach out and even touch the perfection of a peaceful haven.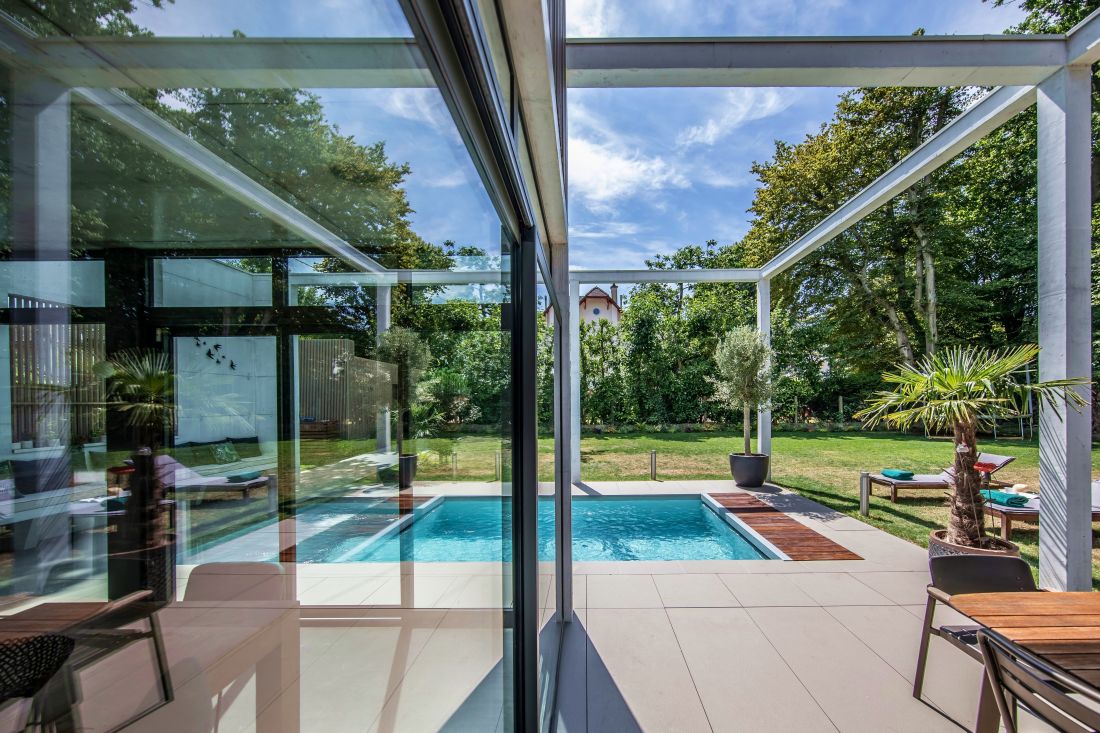 Technical details of this unconventional, contemporary pool:
Bespoke Piscinelle Cr, 7.5m x 3m, surface area: 22.5 m² (see the Cr range).
Piscinelle patented double-skin aluminium structure, using metal that is fully recyclable and recycled by Piscinelle.
The pool is fitted with an automatic pit-mounted grey cover matching the colour of the liner and surrounding decks.
Escaplage with 2 submerged steps for relaxation and entering/exiting the pool.
Light grey 33°C liner (take a look at the slide show of pools by liner colour).
Set of light grey shell fittings blending in seamlessly with the colour of the liner.
2 white LED spotlights bringing the pool to life at night.
Traditional sand filtration proportionate to the pool (10m3/h for this pool).
Equipment box several metres from the pool.
8kW heat pump for heating the pool.
Automated pH control equipment.
Automatic Redox injection.
Antifreeze unit.
Pool cleaner for the bottom and walls.
Ceramic deck ((take a look at the slide show of available surround types).
Take a look at the full photo-reportage of this pool in the French department of Hauts-de-Seine. (photo credit: Fred Pieau)
Configure your Piscinelle pool
Last updated on 17/01/2022
Back to the summary of the section "Photos of our swimming pools builds"