PHOTO-REPORTAGE - A TRADITIONAL LAP POOL
Like a carpet laid out in the garden, the timeless beauty of this traditional lap pool with a simple natural stone border is breathtaking.
Its purity and simplicity combined with meticulous craftsmanship reminds us that luxury can also and indeed often be found in the obvious. Obvious in terms of the shape of a lap pool with clean, extremely crisp lines. Obvious too in terms of the setting in the middle of a perfectly tended lawn with no other embellishments.
Customer feedback
"We wanted a pool that looked like a painting. A lap pool with the elegance of a traditional pool that looks like it has always been there."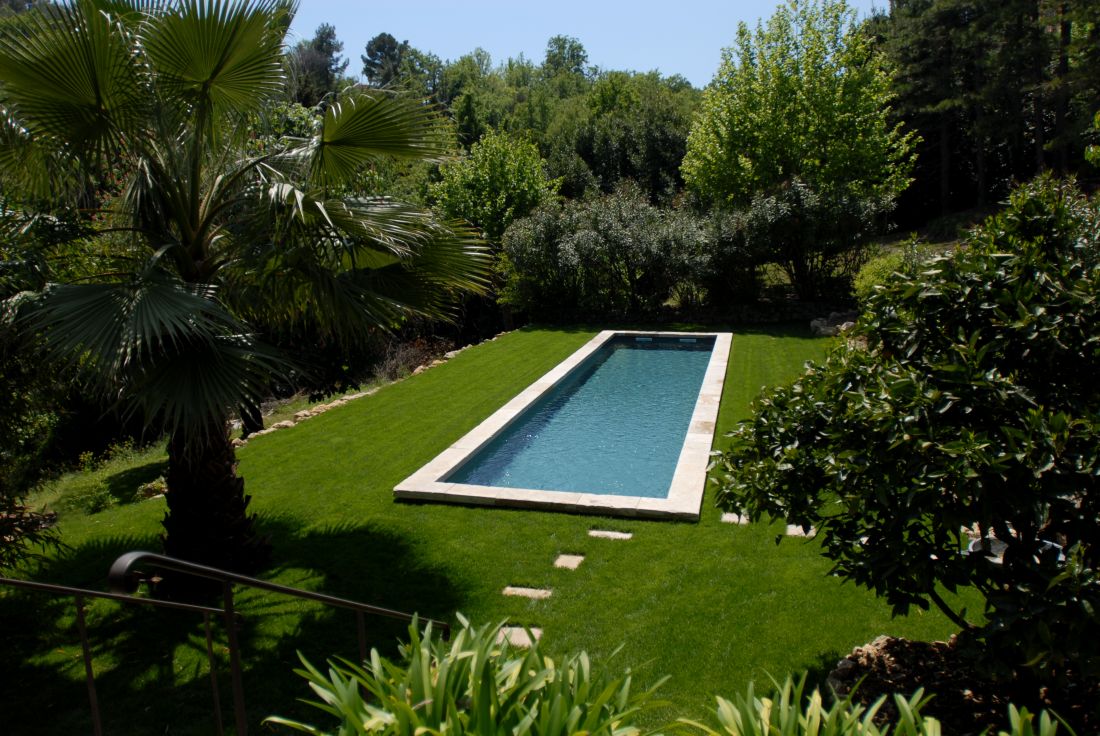 This lap pool is a Piscinelle Cn20 (pool dimensions 20m x 3.75m) with a highly durable and eco-friendly aluminium structure.
It is fitted with a slate-grey liner bringing out all the shades of the medium-depth water, and has a real feel of a traditional pool almost reminiscent of an old-fashioned wash house with clear water and mysterious reflections.
The natural stone border is thick, wide and bold, leaving no doubts as to its role as an integral part of the design.
The lap pool is equipped with a heat pump enabling the pool to be used for longer periods. Gazing at the spotlights, the mind is inclined to wander by the pool in the waning light, when night casts its veil over the surrounding landscape.
Lush, diverse vegetation including palm trees, fir trees, almond trees, umbrella pines, bay trees and oaks is ever-present in this setting, but takes a reverent step back from the pool as if honouring the princess of this realm.
Our customer threw down the gauntlet of installing this contemporary pool with its on-trend design in this magnificent space without compromising its charm. Piscinelle rose to the challenge, channelling all its expertise into creating this lap pool that is both stylish and traditional at the same time.
Take a look at the full photo-reportage:
Configure your Piscinelle pool
Lap-pools With borders Grey liner
Last updated on 17/01/2022
Back to the summary of the section "Photos of our swimming pools builds"