A SMALL SWIMMING POOL JUST YARDS FROM THE BEACH ON THE ÎLE DE RÉ
A swimming pool ... just yards from the beach?
While some may wonder what the point is of building a pool just metres from the shore, others get it straight away - a swimming pool is about enjoying the finer things in life. It brings fun and laughter to a household while also providing grown-ups with something pretty to look at. It's almost tempting to focus a project entirely on the pool as something to admire rather than swim in - pools should exist as purely aesthetic objects and, as the Domestic Pools exhibition at the Villa Noailles touched on, this could be where our tastes are heading.
The same question crops up in other pool projects in places where sun is in shorter supply ... but once again, no-one builds a pool just to swim in it! Although we believe Cyrano de Bergerac was perhaps taking things too far when he said "it's much more beautiful when it's useless!", we agree with many of our customers that making their ideas a reality is sufficient justification for a pool. The fun starts with sketching out the project on a piece of paper...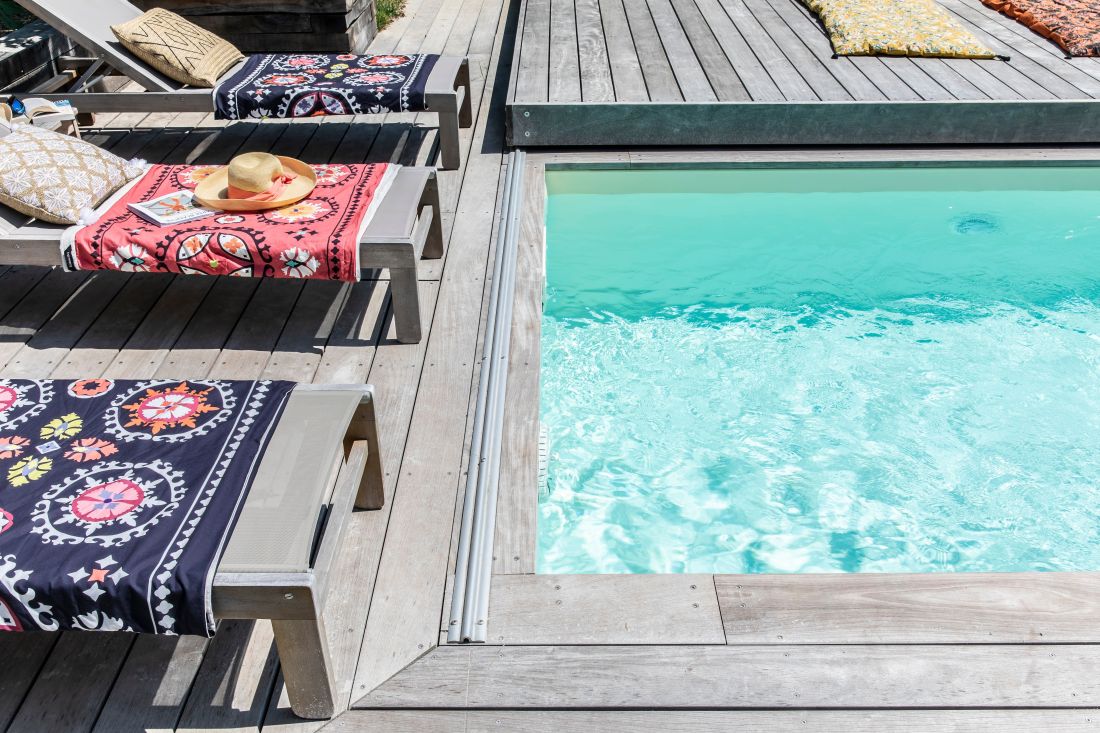 Even if we were to take a more ROI-focused view, the same customers would argue that a few weeks of regular dips and feeling ultra-relaxed, even for fleeting periods, provide sufficient mental resilience for an entire year and instil well-being that lingers long after exiting the pool.
Small pool and Rolling-Deck - a smart combo for small gardens
This Piscinelle pool on the Île de Ré is installed in a small space, so it's a real plus to be able to reclaim the area occupied by the pool in the off-season while retaining a very stylish look. The Rolling-Deck covered in ipe slats was the ideal solution meeting our customers' requirements in terms of modularity and design.
Customer feedback
"Our aim was to finish off this dream house with a small pool that could be the life of the party in summer and the soul of discretion in winter. The Rolling-Deck provides the ideal solution!"
The pool in this project was built in a walled garden surrounded by traditional stone walls. The greenery contrasts with the ipe surrounds that have gone silvery with several years' sun. Grasses and palm trees add an incredibly chilled-out feel to a build that already radiates a rare sense of calm.
The smaller the garden, the more important it is to retain the harmony of the site by installing a small pool that still offers all the benefits of larger models - heated, permanently balanced water, a tanning ledge for relaxation, and an endless pool unit for those in search of something a little more strenuous. The sand-coloured liner adds a soft touch to this build, echoing the beach just metres away.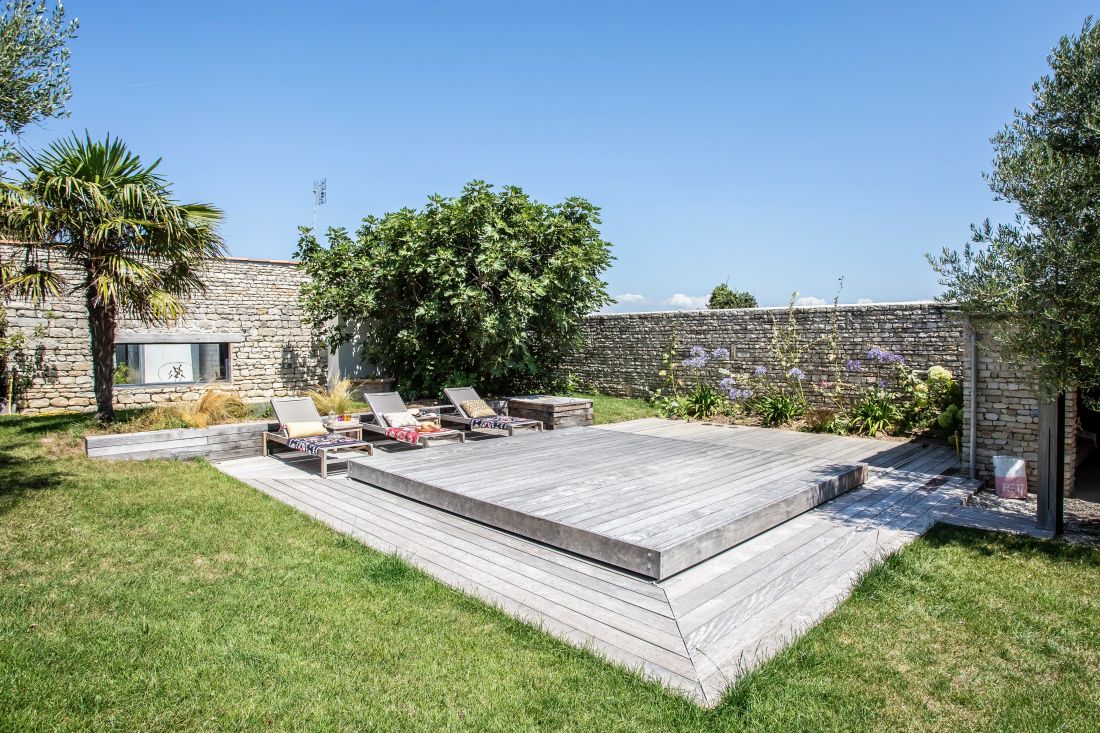 The Rolling-Deck is the icing on the cake, providing an attractive means of securing the pool, which is why we recommend a small pool and Rolling-Deck as a smart combo for small gardens.
In the Charente Basin with salt marshes and oyster farms on all sides, a dip in the pool is the perfect way to end a day spent swimming by the low cliffs and biking around the island like in the film "Bicycling with Molière"!
Technical details of this small pool on the Île de Ré:
Piscinelle Cr4 (4m x 2.5m), depth: 136cm, 10m² pool exempt from planning permission.
Piscinelle patented double-skin aluminium structure. Aluminium is a non-ferrous metal that doesn't rust, and offers remarkable properties widely used in the most demanding industries.
Sand-coloured 33°C liner with a set of white shell fittings (take a look at the slideshow of swimming pools classified by liner colour).
Single-module Rolling-Deck with a track running widthways. The entire structure and deck is made of ipe, a naturally rot-proof exotic wood variety (safety equipment satisfying standard NF P 90 308).
White LED spotlight enabling the pool to be lit up at night.
2-step Escaplage enabling sociable gatherings in the pool and games with children while also providing a simple means of access.
Traditional sand filter in an equipment box a few metres away.
Heat pump enabling the pool to be used for an extended period (April to October, weather permitting).
Water treatment options enabling semi-automation and facilitating maintenance.
An Aquabike for more athletic guests!
The pool deck is made of ipe.
Take a look at this video showing the Rolling-Deck in operation on this pool (credit: Fred Pieau):
View all photos of this build in on the Île de Ré (photo credit: Fred Pieau):
Piscinelle operates on the Île de Ré and in the municipalities of Ars-en-Ré, Le Bois-Plage-en-Ré, La Couarde-sur-Mer, la Flotte, Loix, Les Portes-en-Ré, Rivedoux-Plage, Saint-Clément-des-Baleines, Saint-Martin-de-Ré and Sainte-Marie-de-Ré.
CONFIGURE YOUR PISCINELLE POOL
<10m² With Rolling-Deck With borders
Last updated on 17/01/2022
Back to the summary of the section "Photos of our swimming pools builds"