A SWIMMING POOL? THREE GOOD REASONS!
This build was awarded the Gold Trophy for a "pool installed within a budget of €20,000" by the French Federation of Swimming Pool Professionals (find out more about the FPP Trophies).
A pool area that sprang from nowhere…
This Piscinelle pool was installed in an area below the main grounds of the house. The full potential of this previously unused space was tapped to make it the most popular gathering place in the garden.
Moreover, a swimming pool was an obvious choice for our customers whose main aim in this home improvement project was to make their new main residence an ultra-inviting home for their family.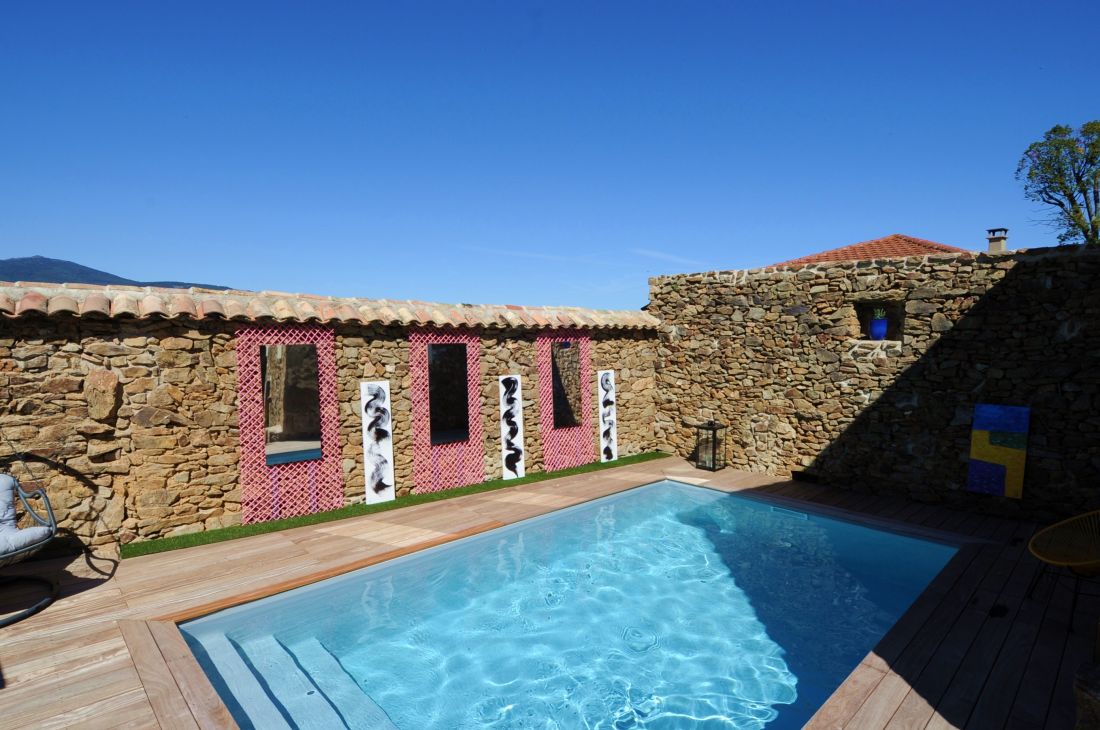 By installing a pool, our customers sought to increase the value of their house, expand the space by giving it a purpose - if only a decorative one - and enable them, on a daily basis, to enjoy the finer things in life that go way beyond a regular dip.
Like other customers' projects, this one took shape based on the twofold justification of a need to make smart use of garden space, thus making it "profitable", and a desire to have a pool at home.
Keeping down costs without sacrificing style
In addition to these two factors that played a key role in the customer's decision-making process, a third priority was to keep to budget within the scope of a wider home improvement project.
Customer feedback
"We really wanted a pool as a place to get together, but its look was also a key part of the project. The build Piscinelle quoted for us met all our requirements and was also on budget!"
This build was awarded a Swimming Pool Trophy by the FPP in the "swimming pool installed within a budget of €20,000" category.
In this project, the steeply sloping land was too enclosed to afford it decent exposure and poorly maintained, making it the ideal spot to install a Piscinelle pool. Given these factors, we positioned the pool entirely above ground, which meant there was no need to carry out earthworks, manage earth removal or supply backfill. With the savings made on building work, it was possible to produce an exquisite build within the constraints of a tight budget.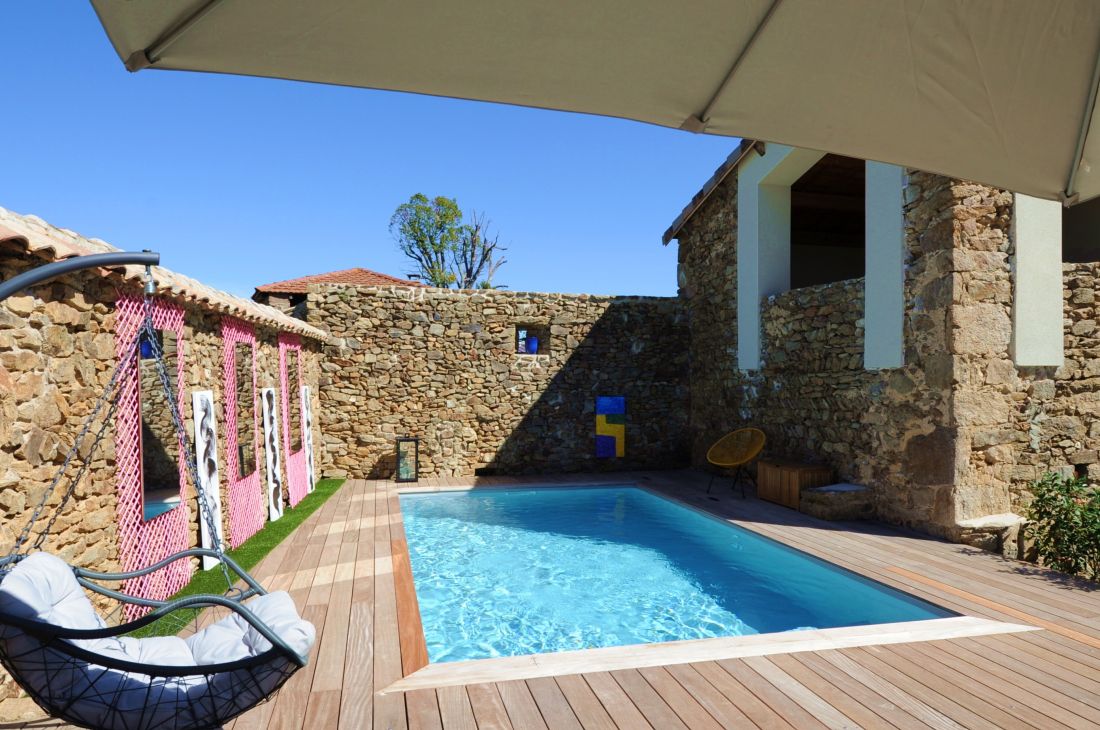 The pool unit was covered in wooden decking, which was installed on a set of struts rather than on the ground, adding virtually nothing to the cost while achieving a perfect finish.
Moreover, by raising the pool, it was possible to improve its exposure to the sun brightening up this rather drab, disused area. The sense of confinement created by the surrounding old dry-stone walls has even been harnessed to give this extremely cosy, pleasant pool area a cocoon-like feel.
Technical details of this build in Ardèche:
Bespoke Piscinelle Cr (6m x 3.5m), height: 147cm, surface area: 21m².
Autoclave Class 4 treated Scots pine structure (further details).
Above-ground pool with a load-bearing system based on IPN beams.
3-step Escabanc positioned widthways (with each step measuring 33cm).
Light grey 33°C liner (take a look at the slideshow of swimming pools classified by liner colour).
Set of light grey shell fittings blending in seamlessly with the colour of the liner.
Equipment box and cartridge filtration system integrated below the deck on struts.
White LED spotlight.
All-year bar-supported safety cover Ipe deck on struts covering the pool.
View all the photos of this above ground swimming-pool:
Piscinelle is a swimming pool specialist operating in the municipalities of Annonay, Aubenas, Guilherand-Granges, Tournon-sur-Rhône, Privas, Le Teil, Saint-Péray, Bourg-Saint-Andéol, La Voulte-sur-Rhône and Viviers.
CONFIGURE YOUR PISCINELLE POOL
With borders Above-ground pools Grey liner
Last updated on 18/11/2022
Back to the summary of the section "Photos of our swimming pools builds"